Today, we need a CRM tool (one which is easy to use, keeps track of all customer information and also acts as a collaboration between the sales team). With that comes the new age sales & customer management, that is managing it on the go, through handheld or mobile – so here we are with WakeupSales CRM Android App for mobile and we're pleased to announce that WakeupSales CRM is now available on Google Play store.
Key features include:
New user interface with more smoother transitions

A new fresh calendar view to organize all your events  

Syncing of opportunities and leads, making it easier to access and update these anytime, anywhere

More advanced controls  

Assign and update any of your tasks from WakeupSales Android App

A unique call recording feature and more…
Leads and Opportunities
Now get to access all your existing leads with their respective opportunities from WakeupSales Android App. It's now more easy to add leads and opportunities.
As lead management doesn't necessarily take place only when the salesperson is at his desk- it can happen anytime, anywhere. WakeupSales CRM's Mobile App lead management module provides you the flexibility to add leads and assign opportunities anytime and anywhere.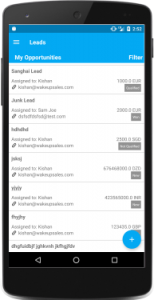 See All Tasks and Quickly Add Tasks
Here you can view all your assigned tasks under the task widget section. You can use the + button in order to add any new tasks or you can edit any particular task in your bucket. A particular task can be marked complete by tapping the checkbox for the existing task.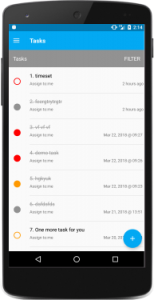 New Calendar View
WakeupSales CRM's Android does have a separate calendar view module inside it, which lets you to organize events by dates.
Now manage all your activities like Tasks, Appointments, Phone Calls, Emails and Custom Activities in a calendar format.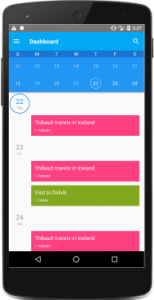 Appealing Dashboard View
If you're using Wakeupsales CRM, you simply can't miss the Dashboard page. It's where you get to see an overall view of everything that's happening in your CRM. To note everything down:
Total Leads

Total tasks in your bucket

Deals closed

Overall value in your pipeline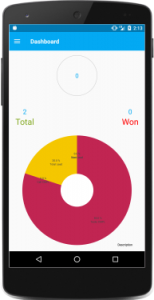 To install WakeupSales just visit the Google Play store on your phone and search for WakeupSales CRM.
We now have a dedicated team working on the mobile app and they're busy working on further updates. If you have your own ideas I would love to hear about them. 🙂