CRM- Customer Relationship management, it's the system which aims to improve the relationships with your customers., You can find new prospective customers and gain back your former customers. The CRM software helps to organised, collect and manage customer information, everything in a single place. 
CRM tools are not just for large scale organisations with a large database of customers, but are advantages to every small and medium sized organisation.
The benefits of CRM are very well known to anyone who has used it. They are designed to record, manage and study the customer interactions through the sales pipeline. No matter what business you are into, CRM's play a vital role. Since customer relationships are an essential requisite of every business, people want to figure out the best way to do it and get more benefits through it.
It's not that companies with huge customer bases are only permitted to use CRM's. They are adopted and used largely by small and medium enterprises too. CRM apps are designed in a way to fit the requirements of almost every business.
Benefits Of Wakeupsales CRM Software For Your Business:
You can enjoy many benefits of CRM software that helps to grow your business. But with Wakeupsales CRM you can enjoy a lot more benefits that will make you wonder how you ever got along without it. 
The Customer Relationship Management Software is a vital tool for businesses of all sizes. The CRM software can provide lots of benefits to your business. From organizing your contacts to automating key tasks. It provides a centralized, organised hub which enables regular communication with customers and within it's organisations. It is extremely important as more and more organisations move to remote work.
Let's take a look at the top reasons to switch to Wakeupsales CRM!
1. Streamline Your Sales Process
Earlier, most businesses were managed over some excel sheets and on a variety of static tools. While it may be fine to use them for fewer leads, gradually it may become difficult to manage your leads and customers. But with the introduction of CRM, this has all changed!
WithWakeupsales CRM, you can easily track your leads through the sales funnel right from their point of entry.
2. Manage Your Leads More Efficiently
Till more businesses do believe that not having enough leads in their sales pipeline is the main reason behind low returns. But reality is something different. Poor lead management strategies are generally considered the real culprit. Wakeupsales CRM makes it easy to track and manage your leads. And because managing leads effectively is the key to success for any business, it's time to give Wakeupsales CRM a try!
3. Prioritizing Your Call
It may so happen that you might sometimes lose track on who to call when you encounter a large number of leads. Sometimes leads that can actually provide business are often missed out. It is here where you use it. Wakeupsales automatically prioritizes your leads, so you don't have to! Their sales pipeline view helps you finalize which leads to the target next.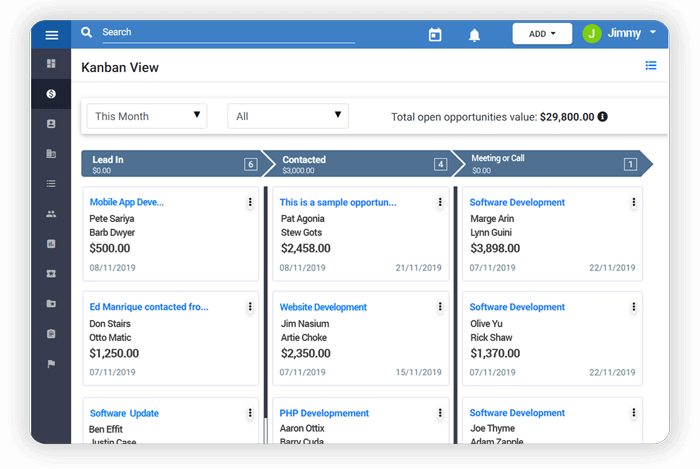 4. Make Your Team Communication More Transparent
To have a more transparent system is a need of every organisation. Sometimes the sales team might start feeling demoralized. This further adds up to future conflicts. Wakeupsales helps in providing a clear picture to everyone in the business. This way they will come to know who has achieved what and why their work is being appreciated.
I was able to work with it from day 1 as it was pretty easy to get started with. Within a week I experienced a net increase of around 23% in my sales activities, which is good compared to my past 6 months story.
Ajay P.S, Co-founder & CEO,
India

5. Get Thorough Analytics On Your Sales Process
All your efforts will be in vain if you're not able to account for your actions. Wakeupsales comes with a more powerful sales analytics feature that helps you to dive deeper into your sales activities. It also gives you the scope to gauge and measure the effectiveness of individual sales guy.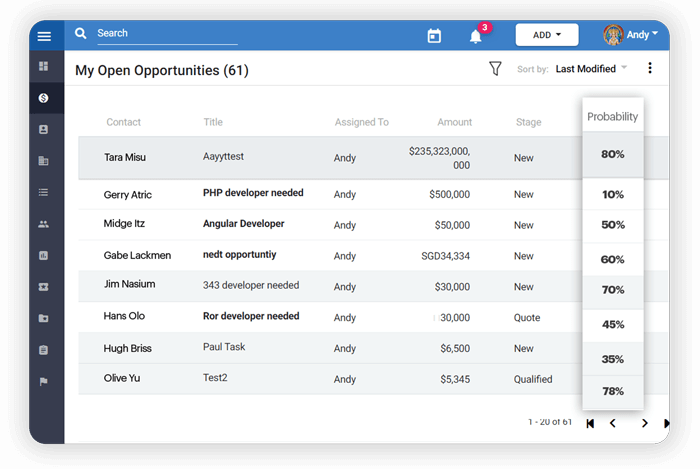 Conclusion:
With a CRM Software like Wakeupsales, you can get lots of benefits for all types of teams and business and your team can get enormous benefits from it. 
As all your customers are not created equally, hence the value of the CRM is what keeps you reaching the right customers and helps to deploy many precious marketing dollars from your customers, that returns the highest value over the customer lifetime.
What the use of investing in CRM's which does not fulfill your extreme needs! Are you in search of such customer relationship management tool, which helps you in overcoming your needs?  Sign up for Wakeupsales CRM today. Start transforming your business right away.