In order to succeed in business, you need to go beyond just selling products & services; you have to build and nurture good relationships with your customers. Thanks to technology, there are plenty of ways you can learn about your customers, their needs, and regularly engage with them. Because customer data is the biggest key to business success!
Many big brands collect and store this data about their customers. But they don't use it properly. The Customer data are the important threads for customer growth. The amount of data that can be captured about the customers gives many opportunities for the brands.
However, if the customer information was collected in silos and for various departments, it became difficult to get a complete view on their actual customers.
Every organization talks about the importance of big data. But most of them don't put that data to good use or they don't know how to. 
Proper management of customer data isn't always challenging. With a little planning, your sales team can manage data smartly without losing or compromising any valuable information.   
Why is customer data  important?
The data science job has grown to 58% in Australia, 5 times more than it was in 2014. This momentum has shown no signs of slowing in the year 2019, with posts being tracked 30% ahead of the same period in the last year. There is always a reason for such growth.
We're sure you are acknowledged with the phrase 'data driven marketing'. It is a strategy that every brand needs to adapt. With strategy technology and best practices won't cause any impact if you lack the insights from the customer's data that you have. 
Effective ways to manage your Customer's data:
Even after applying all the methods for customer data collection, still you miss out 2.5 quintillion bytes of consumer data. To ensure that you put these customers data you collect to utilize in the best possible ways.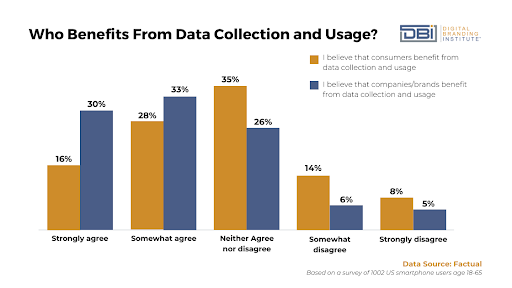 (Source: Digital Branding Institute)
Here are 3 simple yet powerful ways you can effectively manage your customer data:
#1. Provide Complete Understanding of Customers: 
Most of the big companies know how to leverage data to build better customer relationships. However small & medium-size businesses often fall behind due to lack of resources to collect and manage customer data properly.  
The wise thing to do in such cases is to centralize sales and marketing activities so that you can combine intelligence through CRM integrations and figure out opportunities for better resolution of customer issues and more accurate up-selling of products to customers.
#2. Encourage Long-lasting Relationships: 
Communication is key to any relationship. No surprise, a complete understanding of customer needs is what nurtures and maintains long-lasting relationships. 
Customized CRM features help companies create these relationships with ease. It ensures that all data is accurately tracked and reported through the sales pipeline. You can deliver custom products and personalized services which enables your customers to feel like they have a true partner. High customer satisfaction means long lasting relationships. 
#3. Become a Data Source Yourself: 
There is an old saying, "it's better to give, than receive" and this might also apply to your customers. 
According to a study, "Organisations that share their data externally, report an increase in their influence… including customer acquisition & retention (86%), vendor retention (72%) etc.".
I was able to work with it from day 1 as it was pretty easy to get started with. Within a week I experienced a net increase of around 23% in my sales activities, which is good compared to my past 6 months story.
Ajay P.S, Co-founder & CEO,
India

Might seem strange, but worth giving it a try. Because officially declared numbers/statistics impose a certain level of authenticity or confidence in the minds of readers.  
Use customer data to create a more personalized, pleasurable shopping experience. "According to an Infosys study, 70 percent of Americans are willing to spend an average of 13 percent more with companies they feel provide superior service," says Scot DeLancey, director, Department and Specialty Retail Solution Management, NCR.
By leveraging customer and consumer data, retailers can "make personalized recommendations, inform shoppers of special offers and promotions that are most relevant to them and fully maximize cross-sell and up-sell opportunities to realize increased revenues."
Video game retailer GameStop, for example, has found that "data from loyalty programs offer the best insight on each customer's interests, past purchases and engagement preferences," says Rob Lloyd, its CFO. "This data can be used to create a customized shopping experience down to the individual and even offer product recommendations."
"Companies with brick and mortar stores can use customer data to improve their customer's in-store experience," adds Greg Petro, CEO, First Insight.
Conclusion: 
With new technology it has become much easier than before to access and make proper utilization of customer's data by using a CRM tool. However, to get the ideal setup and avoid being overwhelmed, you need to follow some effective tips to grow.
It's easy to draw insights into customers. Nevertheless, to turn data into actionable insights… you need a CRM solution that will help you collect & track data and give you a complete view of your pipeline. Without these, data collection becomes a burden on businesses and their customers.
Sign up for Wakeupsales CRM today. Get maximum value out of your customers' info